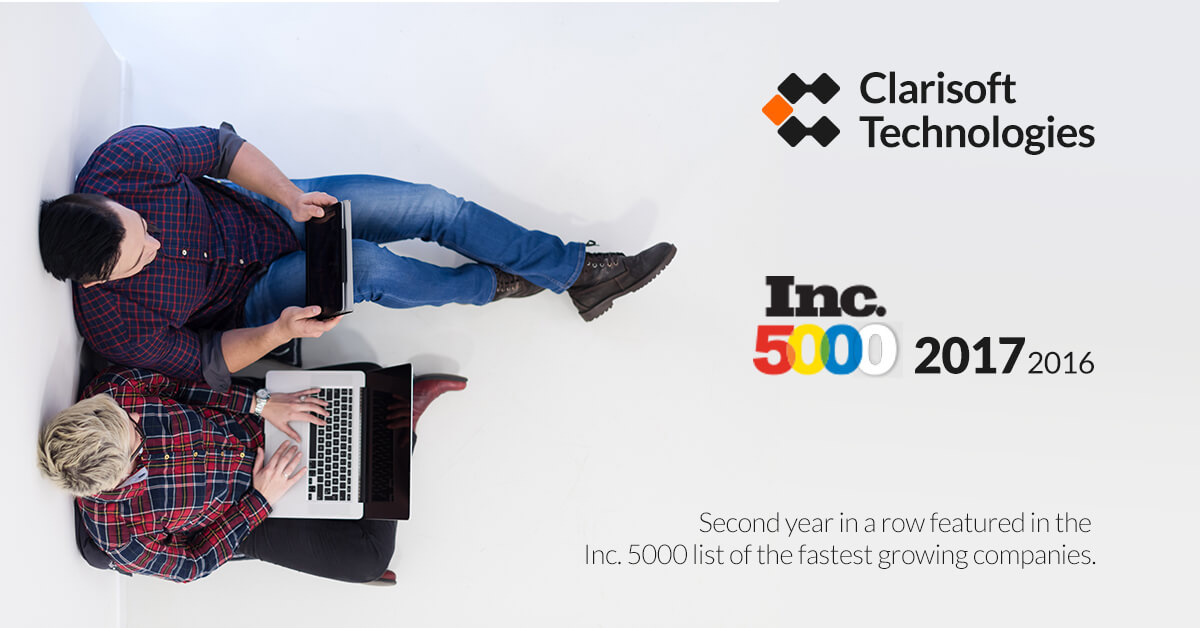 For Clarisoft Technologies, a NY based software development company, the hybrid outsourcing business model proved to be the key to its consistent thrive.
Clarisoft Technologies made it to the Inc. 5000 List, the most prestigious ranking of the fastest-growing private companies in the US, for the second year in a row.
Clarisoft Technologies is a US-based custom software development company that offers software development services through its New York, Arizona and Bucharest, Romania offices. Clarisoft Technologies is among the few US private software companies that have proved consistent exponential growth in time, ranking no. 2381 in 2017.
"Making the Inc. 5000 list two years in a row is a tremendous honor and a testament that our hybrid onshore/offshore software development model business model is highly effective", said Bogdan Bucura, CEO, Clarisoft Technologies.
Clarisoft provides its customers with high-end custom software solutions that help them scale their business – an approach that has proved fruitful over the last several years. Dedicated Team cooperation model provided by Clarisoft allowed its clients to augment their internal workforce using teams of experts from Clarisoft's Romanian office. All this at a fraction of the cost, with smooth communication and with no timezone issues.
"It is all about providing great value to your clients. When you offer them software services customized to their unique needs, and help them grow revenue and/or reduce costs, great things happen for both parties. We are honored to work with leading companies in industries like telecom, healthcare, staffing, and education. Working in such close and trustworthy partnerships with customers has fueled our growth over the years. We also owe a lot to our entire team in Romania and US: developers, designers, testers, project managers and business development that constantly strive for excellence.", added Bogdan Bucura, CEO, Clarisoft Technologies. "We have scaled a lot and we expect the extraordinary growth to continue. We are looking forward to delivering even more valuable services to many other companies across USA and Europe."
About Clarisoft Technologies
Clarisoft Technologies is a custom software development and software outsourcing company with more than 13 years experience in custom software development platforms for business. The firm functions on a hybrid onshore and offshore model, having its headquarters in the US and the development office in Romania.
Clarisoft Technologies offers full-stack software development solutions for small business to large enterprises, from ideation, development, project management, software testing, and maintenance, to marketing. Its list of business services includes custom software development, mobile application development, dedicated software development teams, and software project rescue.
The company enjoyed tremendous success and growth in recent years by working with a wide range of companies, from start-ups to $1 billion companies. Clarisoft Technologies is also involved in the nonprofit, educational, and community-level by creating applications for AZ Sci-Tech Festival, Desert Botanical Garden, or MIT's RRTN Network.
About Inc. 5000
The Inc. 5000 is a list of the fastest-growing private companies in the US. Started in 1982, this prestigious list of the nation's most successful private companies has become the hallmark of entrepreneurial success.
The Inc. 5000 is ranked according to percentage revenue growth over a three-year period. The complete listing, including company profiles, rate growth, and revenue can be found at https://www.inc.com/inc5000.
Clarisoft's CEO, Bogdan Bucura will be attending the annual Inc. 5000 event honoring all the companies along with other ~2,000 business leaders. The event will be held during October 10-12, 2017 in Palm Springs, CA (JW Marriott, Desert Springs Resort & Spa).