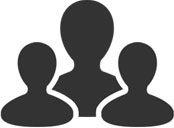 Our employees are recruited from the top IT colleges and software companies in the world, and bring valuable real life experience to your team. Most of our staff hold advanced degrees in Computer Science and have a minimum of 4 years of experience working in software development.
We are proud of the seriously talented software developers at Clarisoft.  When you have larger and more intricate projects, we can offer you direct access to our amazing developers via a staffing contract. We will assist you in determining the types of developers your project requires and what technologies they will be working in.  Then we will hand-pick the best candidates for the job.
From web development, mobile applications, database design to advanced systems software, we will provide you with your project's perfect match.  We are like the Cupid of the technology world!